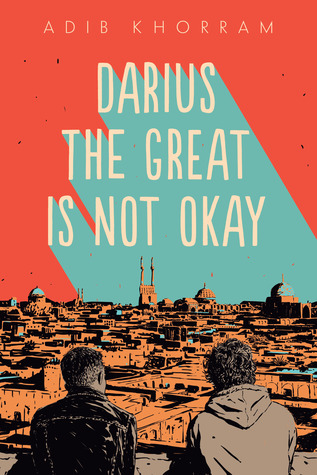 Book
Darius the Great is Not Okay
Author
Release Date
Pages
Format
Source
Sent to me for review by PenguinTeen Canada
Goodreads Link
Where to Preorder
Amazon CA | Book Depository | ChaptersIndigo
Darius doesn't think he'll ever be enough, in America or in Iran. Hilarious and heartbreaking, this unforgettable debut introduces a brilliant new voice in contemporary YA.
Darius Kellner speaks better Klingon than Farsi, and he knows more about Hobbit social cues than Persian ones. He's about to take his first-ever trip to Iran, and it's pretty overwhelming--especially when he's also dealing with clinical depression, a disapproving dad, and a chronically anemic social life. In Iran, he gets to know his ailing but still formidable grandfather, his loving grandmother, and the rest of his mom's family for the first time. And he meets Sohrab, the boy next door who changes everything.
Sohrab makes sure people speak English so Darius can understand what's going on. He gets Darius an Iranian National Football Team jersey that makes him feel like a True Persian for the first time. And he understand that sometimes, best friends don't have to talk. Darius has never had a true friend before, but now he's spending his days with Sohrab playing soccer, eating rosewater ice cream, and sitting together for hours in their special place, a rooftop overlooking the Yazdi skyline.
Sohrab calls him Darioush--the original Persian version of his name--and Darius has never felt more like himself than he does now that he's Darioush to Sohrab. When it's time to go home to America, he'll have to find a way to be Darioush on his own.
To start this off, let me say this: I love Darius. I want to be his friend and make him feel loved, and make him tea. His character was both light hearted, and also heartbreaking at the same time. Adib Khorram did such an amazing job exploring the feelings associated with Darius' depression, and the fact that he truly felt like he was always on the outside, without making him seem one sided or like a caricature of a person with mental health issues. The intricacies of depression, and the way it impacts his life, his relationships with his family, and even his relationship with Sohrab, were so well written. I loved the candid discussions of mental illness, and also how the story didn't end with him being 'cured'.
Speaking of cures, I have
a big issue with the concept of the Geographic Cure, which is the idea that when people travel, their problems are left behind in the place they are leaving. I loved how Darius' travels to Iran focused on the beauty and the amazing elements of travel -- meeting family, seeing cultures in different ways, exploring new places -- but also showed the realism of being in these new places. The way that Darius interacted with his grandparents made for some really thought provoking moments for me. Even though they are flesh and blood, there is still so much distance between them. I was also really interested in the intricacies and details about Iranian and Persian culture!
The pacing in this book was something I really appreciated. I think I always talk about wanting something fast paced, but I loved the slow steady nature of it. While the beginning was a bit difficult to get into, about 60-80 pages in, I really felt like the story flew past. The plot doesn't move quickly, but I just became so invested in the characters, and in their lives, that I barely realised how quickly I was reading it.
This can't be a review without talking about Darius and Sohrab. Their relationship was the highlight of the book for me. I love new friendships, and I loved getting to see how their friendship built. I want another book where Sohrab comes to America and they stay best friends.
There's something about this book, that when the last page was turned, and the story was over, I knew that I had read something special. It was a mix of the culture infused in the book, the beautiful and fully realized characters, and the discussions surrounding mental health, but this book was something special. And something that I think a lot of people will love and enjoy. 4.5 Stars.
Thanks so much to Penguin Teen Canada for having me on as a part of the blog tour! Check out all the other stops below!
Thanks for reading, and I hope you all enjoy Darius!