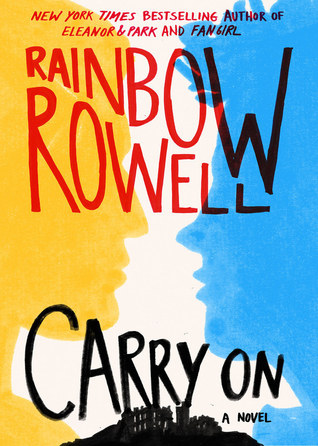 Book: Carry On
Author: Rainbow Rowell
Publisher: St. Martin's Griffin
Pages: 517 Pages
Format: Hardcover
Source: Purchased at Woozles Independent Bookstore
Simon Snow is the worst chosen one who's ever been chosen.
That's what his roommate, Baz, says. And Baz might be evil and a vampire and a complete git, but he's probably right.
Half the time, Simon can't even make his wand work, and the other half, he sets something on fire. His mentor's avoiding him, his girlfriend broke up with him, and there's a magic-eating monster running around wearing Simon's face. Baz would be having a field day with all this, if he were here—it's their last year at the Watford School of Magicks, and Simon's infuriating nemesis didn't even bother to show up.
Carry On is a ghost story, a love story, a mystery and a melodrama. It has just as much kissing and talking as you'd expect from a Rainbow Rowell story—but far, far more monsters.
After reading Fangirl, I went to an event in Toronto where I got to meet Rainbow Rowell, and she was asked the question "Would you ever write Simon and Baz's story?" and her response was that those scenes we read in Fangirl were her trying her hand at fantasy, and that maybe one day, she would write it. And i'm so glad she did, because Carry On has the charm and honesty that all her novels have, but it's got a little something extra.
Simon's story was the perfect amount of sweet nostalgia, and something completely new. With all of the Magical-Chosen-One stories out there, I was very afraid when I started this book that it would be hokey, and just good for a laugh. Note: If I ever doubt Rainbow Rowell again, please hit me over the head with one of Cath's commemorative busts of Simon. Rainbow's story felt timeless, yet so contemporary. It wasn't like I was reading this for the first time, but it felt like this was a childhood favourite I was revisiting. And this motley crew of characters is one of the main reasons why.
Simon Snow had my heart from page one. I saw so much of myself in him that it was easy to sympathize, but also easy to have moments of frustrating when he just. Shouldn't. Do. The. Thing. One of my favourite things about him was the different relationships he managed to keep up. Each relationship was so different, but you could tell that he was invested in all of them, which is a testament to how great Rainbow Rowell is at writing characters. Characters like Penny and Agatha and the Mage rounded out the story and make it so full that it was overflowing.
And how can I write a review and not talk about Baz? What to say about Baz that Simon Snow hasn't already said about him. I really loved him. He was a great play on the dark character, and he did what I don't think has often been done. He was humanized. He was given this great vulnerability and fear, but he wasn't weak. I love when I find characters like him because they're just so refreshing when your bookshelf is filled with melodramatic heroes and heroines.
I do stand by what i've said in the past, that Rainbow's characters are the strongest point of her writing. I still believe that she writes characters that readers can love, and tells that character's story, screw the reader's feelings. But the plot in Carry On was something I haven't really read in one of Rainbow's novels. Chalk that up to a new genre, or possibly to just getting better. But I loved it. I was so in love with the intricacies in the plot, and how well all the changing narrations flowed. I loved every second of reading this book.
And that ending got me all swoony, let me just say ;) No spoilers!
All in all, Rainbow Rowell has done it again. She's written a book that has stolen my heart, and that I will be shoving into the hands of all my friends. It's witty, it's fun, it's full of heart, and what else can you ask for? I love Simon and Baz, and i'm so glad that their story got told.