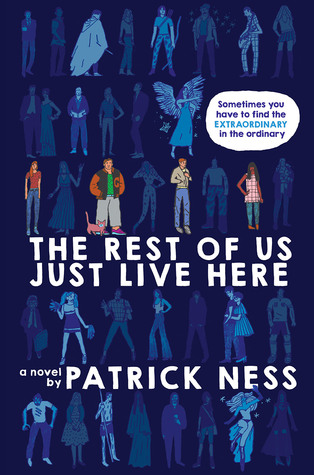 Book: The Rest of Us Just Live Here
Author: Patrick Ness
Publisher: HarperTeen
Pages: 336 Pages
Format: ARC
Source: Provided in exchange for an honest review by the lovely ladies at HCCFrenzy
Thanks to HCC Frenzy for providing an ARC in exchange for an honest review. All thoughts and opinions are my own. Sorry this took so long to get to and review!
What if you aren't the Chosen One? The one who's supposed to fight the zombies, or the soul-eating ghosts, or whatever the heck this new thing is, with the blue lights and the death?
What if you're like Mikey? Who just wants to graduate and go to prom and maybe finally work up the courage to ask Henna out before someone goes and blows up the high school. Again.
Because sometimes there are problems bigger than this week's end of the world, and sometimes you just have to find the extraordinary in your ordinary life.
Even if your best friend is worshipped by mountain lions.
Award-winning writer Patrick Ness's bold and irreverent novel powerfully reminds us that there are many different types of remarkable.
I wouldn't call myself a huge Patrick Ness fan. To be completely honest. I found A Monster Calls, the only other Ness book I read, to be underwhelming. Now, whether that was because it was super hyped for me by close friends, or I just honestly wasn't impressed by it, we'll never know. But I was really intrigued by the concept of a book that was about all the normal kids in a world where Chosen Ones and Indie Kids, as they're referred to as, dominated the social hierarchy. It seems like our society is so infatuated with the Chosen One stories, and it's not a coincidence that this review comes right after my review of Carry On by Rainbow Rowell, another take on the Chosen One trope. These stories are prefered escapes, for myself at least, and it's with books like this that i'm reminded why.
The story follows 4 main friends, all of whom are what someone would call normal. They're messed up in their own ways, and while their to-do lists, don't involve saving the world and getting back in time for homeroom, their stories are still fascinating and interesting. Ness didn't make their stories boring, or mundane because none of our lives are mundane. While the Indie kids are trying to save the world, Ness gave just as much weight to the lives of Mikey and Jared and Henna and Mel, who are all dealing with real, tangible issues. Their stories were put in the spotlight, and I really appreciate this novel because of that. Mikey and Co. were fully formed and interesting characters that I related to in more ways than I can list, and I just loved getting to hear their story.
And Patrick Ness' writing. So, when hearing about this novel, all I heard was about how incredible the writing was, and I have to say that I wasn't blown away by it. I found nothing extraordinary about the writing. It was very... I mean, I don't want to use the word bland, but kind of? I mean, the world was vivid, and the characters were real, but beyond that? I didn't think that it was anything special. And that's all i'll say about that.
Overall, Patrick Ness' characters and great commentary on Chosen Ones make this book a wonderful read. I loved getting to see these characters in their elements, and I don't know. Maybe I'll have to give Ness another try after this.
Have you read The Rest Of Us Just Live Here? If you have, link me to your review, or let me know what you thought about it! I'm excited to hear your thoughts!
Thanks everyone, and happy reading!