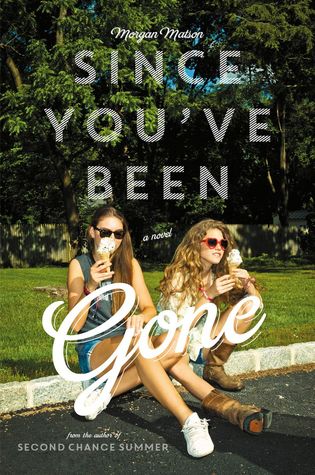 Book: Since You've Been Gone
Author: Morgan Matson
Publisher: Simon and Schuster
Pages: 449 Pages
Format: Paperback
Source: Purchased from Chapters Indigo
It was Sloane
who yanked Emily out of her shell and made life 100% interesting. But right before what should have been the most epic summer, Sloane just…disappears. All she leaves behind is a to-do list.
On it, thirteen Sloane-inspired tasks that Emily would normally never try. But what if they could bring her best friend back?
Apple picking at night?
Okay, easy enough.
Dance until dawn?
Sure. Why not?
Kiss a stranger?
Um...
Emily now has this unexpected summer, and the help of Frank Porter (
totally
unexpected), to check things off Sloane's list. Who knows what she'll find?
Go skinny-dipping?
Wait...what?
I have never read any Morgan Matson and I don't know why. It's probably because I'm sick in the head and I don't love myself enough, but that's a problem for another day. Anyway, Since You've Been Gone was the perfect summer contemporary. It was light and fluffy when it needed to be, yet still hit you in the feels when it had to. And I loved that so much. It was so great to see a book that embraced the contemporary genre, and didn't try to be outlandish and detach itself. And through embracing it, it shines so brightly.
Emily is one of my new favourite protagonists. She was so real and palpable and I just wanted to hug her. She fucked up a few times, and there were things she was scared of and while all of that is great, it's not why i love her so much. It's because of her questioning Sloane. She did everything Sloane said to do, but never stopped asking herself why. She needed an answer, and while other books would have had the answer come to her, she went and got the answer.
And what about Frank? Let me be frank (I know, i'm not funny) the relationship between Emily and Frank was great. Slow build, a lot of questioning, and a big of regret. The characters don't seem to have been created for the relationship, but the relationship for them. They are two people falling in love, and it was done so organically. Seriously, other authors need to take note. And it wasn't just the romantic relationship that I loved. This crazy cast of characters makes me smile just thinking about them. They were fun and honest, and loyal and trustworthy, and all around good people, and I loved them.
I don't know what else I can say about this book besides how much I loved it. It was such a lovely read that will remain in my heart for a long time.