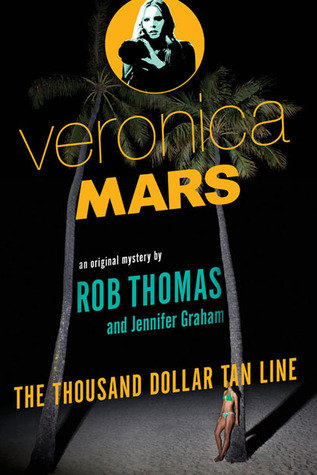 Book: The Thousand Dollar Tan Line
Author: Rob Thomas and Jennifer Graham
Series: Veronica Mars #1
Publisher: Vintage Books
Pages: 324 Pages
Format: Paperback
Source: Purchased Online from Amazon.ca
Where to Buy: Amazon CA, Chapters Indigo, Book Depository
From Rob Thomas, the creator of groundbreaking television series and movie Veronica Mars, comes the first book in a thrilling new mystery series.
Ten years after graduating from high school in Neptune, California, Veronica Mars is back in the land of sun, sand, crime, and corruption. She's traded in her law degree for her old private investigating license, struggling to keep Mars Investigations afloat on the scant cash earned by catching cheating spouses until she can score her first big case.
Now it's spring break, and college students descend on Neptune, transforming the beaches and boardwalks into a frenzied, week-long rave. When a girl disappears from a party, Veronica is called in to investigate. But this is not a simple missing person's case. The house the girl vanished from belongs to a man with serious criminal ties, and soon Veronica is plunged into a dangerous underworld of drugs and organized crime. And when a major break in the investigation has a shocking connection to Veronica's past, the case hits closer to home than she ever imagined.
This was a super weird read for me. Did I think it was a fun read? Kinda. Did the characters and dialog make me invested in the plot? Sure? But was this really the Veronica Mars I know and love? No way in hell.
Don't get me wrong, there is the essence of Veronica Mars, but there were a lot of things that I was just shaking my head at, going 'she would never say/do/think something like that'. Some of the dialog was just way too corny, and way too cliche, and I get that Veronica Mars is part of the noir genre, but this just felt too out of place.
Moving on past all of that, I thought it was an enjoyable read. The plot took a few turns that were questionable towards the end, but the characters were really quite interesting to read about. I thought that Thomas and Graham kept really close to the characters of Mac and Wallace, but they really did stray when it came to the characteristics of Veronica... they fell flat. She became cheezy, and cliche, and her backstory became who she was, not the motivation for the things she was doing.
The writing was... alright. I mean, it was a bit cliche. The suspense wasn't there, and the ending was predictable. I wasn't blown away by anything about this book. It felt like shameless fanservice, and that it was more about producing more Veronica than it was about creating a good and well written story.
It was this read that got me thinking about how much the cast of Veronica Mars, mainly Kristen Bell, really gave the show heart and soul, and how much Kristen really was Veronica in my eyes. It was her sarcasm, quick wit, and emotional performance that really hit me hard, and without that, I felt like this just fell flat.
I mean, if you're a Marshmallow, you might like this, but be warned that it really isn't the Veronica we know and love.