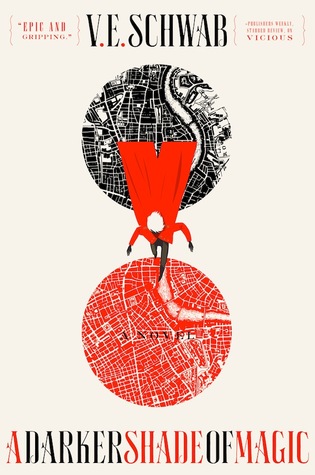 Book: A Darker Shade of Magic
Series: A Darker Shade of Magic #1
Author: V.E. Schwab
Publisher: Tor Books
Pages: 400 Pages
Format: Hardcover
Source: Library Book
Where to Buy: Amazon CA, Book Depository, Chapters Indigo
Kell is one of the last Travelers—rare magicians who choose a parallel universe to visit.
Grey London is dirty, boring, lacks magic, ruled by mad King George. Red London is where life and magic are revered, and the Maresh Dynasty presides over a flourishing empire. White London is ruled by whoever has murdered their way to the throne. People fight to control magic, and the magic fights back, draining the city to its very bones. Once there was Black London—but no one speaks of that now.
Officially, Kell is the Red Traveler, personal ambassador and adopted Prince of Red London, carrying the monthly correspondences between royals of each London. Unofficially, Kell smuggles for those willing to pay for even a glimpse of a world they'll never see. This dangerous hobby sets him up for accidental treason. Fleeing into Grey London, Kell runs afoul of Delilah Bard, a cut-purse with lofty aspirations. She robs him, saves him from a dangerous enemy, then forces him to another world for her 'proper adventure'.
But perilous magic is afoot, and treachery lurks at every turn. To save all of the worlds, Kell and Lila will first need to stay alive—trickier than they hoped.
Victoria Schwab has done it again. She has not only created a full and fascinating world, but created wonderful and memorable characters. In a world this rich, it would have been easy to write half assed characters, and pass it off, but Victoria doesn't do that. She takes her time, and as a result, her characters are able to stand on their own, in any of the Londons that she places them in.
Basically, she knows how to kill her darlings.
I've always been drawn to Victoria's characters first. And while ADSOM has this incredible world - i'll get to that later - her characters here are no different. I just cannot stop thinking about Kell and Lila and Rhy. I'm obsessed with them. I cannot get over how real they feel. They don't feel like characters, but like friends that you've just met but you feel like you've known them your whole life. Their realism and diversity made this such a fun read that I really connected to.
This world really struck me. The fact that there are 4 London's kinda made me hesitant at first. How in the world could this woman flush out 4 very distinctly different worlds, while still setting up a strong plot and introducing characters? Well, i've learned my lesson - never doubt Victoria Schwab. She not only introduced the worlds so easily and without any information dumping, but she gave them each a personality and a tone that shows in her writing. I found myself reading the words differently depending on which London the characters were in and their reactions. I've never done that before.
And that is just a testament to how strong Victoria's writing is. It's solid, innovative, and honestly? It's like nothing i've read before. She has crafted worlds and characters and plotlines that are super literary, and she has found a way to make it easy. There is never a dry or boring moment in the book, but instead the suspense builds slowly, and there is that magical feeling that consistently gets stronger. I am just in awe of this book, and this insanely talented woman.
If you haven't read A Darker Shade of Magic, I would really encourage you to. You'd love this if you're a fan of good writing, magical worlds, and compelling characters. And let's be honest - who isn't?