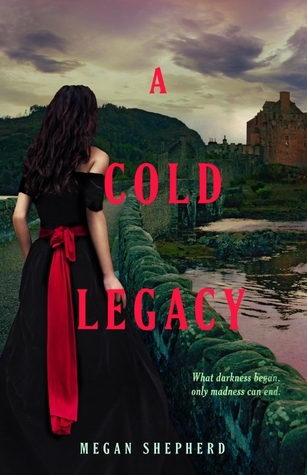 Book: A Cold Legacy
Series: Madman's Daughter #3
Author: Megan Shepherd
Publisher: Balzer+Bray
Pages: 390 Pages
Format: International Edition Paperback
Source: Purchased at ChaptersIndigo
After killing the men who tried to steal her father's research, Juliet—along with Montgomery, Lucy, Balthazar, and a deathly ill Edward—has escaped to a remote estate on the Scottish moors. Owned by the enigmatic Elizabeth von Stein, the mansion is full of mysteries and unexplained oddities: dead bodies in the basement, secret passages, and fortune-tellers who seem to know Juliet's secrets. Though it appears to be a safe haven, Juliet fears new dangers may be present within the manor's own walls.
Then Juliet uncovers the truth about the manor's long history of scientific experimentation—and her own intended role in it—forcing her to determine where the line falls between right and wrong, life and death, magic and science, and promises and secrets. And she must decide if she'll follow her father's dark footsteps or her mother's tragic ones, or whether she'll make her own.
With inspiration from Mary Shelley's Frankenstein, this breathless conclusion to the Madman's Daughter trilogy is about the things we'll sacrifice to save those we love—even our own humanity.
I was really scared to read this one. I wanted to put it off, shoving it to the back of my TBR list because I was so scared that it wouldn't be done right. I wanted Juliette and Montgomery and all of these incredible characters, and this magical and grim world to be done justly. And why I ever questioned Megan Shepherd's ability to finish a series is beyond me, but not only did she do an amazing job writing this book, but an even better job concluding the series.
I was blown away by the story, and how Megan didn't hold back any punches. She didn't care about emotions, and wrote what should happen, not what readers wanted to read. It was so raw, and so real, and I really appreciated that. The characters were honest, and looking back on the series, you can really tell how much they've grown.
I was really astounded by Juliet's growth, especially through this book. You could tell at the end of the 2nd book, Her Dark Curiosity, that change was on its way, and I felt like a proud mama when Juliet finally started taking control, and working through the things going on in her head. She really grew up and matured, and that change was so crucial to the plot.
Megan Shepherd has become an auto buy author for me, because not only has she created characters that I love and that i'm obsessed with, but she's so amazing at writing suspense and creating worlds. The dark and haunting nature of the world was just so captivating, and set the mood from page one, and her suspenseful writing style kept me interested until after the book had ended.
Also, can we just talk about the adaptation?! Megan Shepherd has yet to let me down in that department. I've been so stoked about this one, as I loved Frankenstein, and she really delivers. The inspiration is definitely there, but she made it her own, and she rocked it.
I am so happy with the ending to A Cold Legacy, and I couldn't have imagined a better finale. Filled with suspense, passion, and lots of lovable characters, A Cold Legacy is the perfect ending to what has quickly become a favourite and an unforgettable series. I can't wait to see what Megan Shepherd does next, because I can tell that this is just the beginning for her!