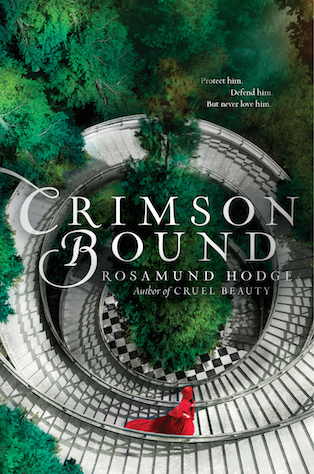 Book: Crimson Bound
Narrator:
Elizabeth Knowelden
Pages:
448 Pages, or 11 Hours
Where to Buy: Amazon CA, Book Depository, Chapters Indigo, Scribd
When Rachelle was fifteen she was good—apprenticed to her aunt and in training to protect her village from dark magic. But she was also reckless— straying from the forest path in search of a way to free her world from the threat of eternal darkness. After an illicit meeting goes dreadfully wrong, Rachelle is forced to make a terrible choice that binds her to the very evil she had hoped to defeat.
Three years later, Rachelle has given her life to serving the realm, fighting deadly creatures in an effort to atone. When the king orders her to guard his son Armand—the man she hates most—Rachelle forces Armand to help her find the legendary sword that might save their world. As the two become unexpected allies, they uncover far-reaching conspiracies, hidden magic, and a love that may be their undoing. In a palace built on unbelievable wealth and dangerous secrets, can Rachelle discover the truth and stop the fall of endless night?
Inspired by the classic fairy tale Little Red Riding Hood, Crimson Bound is an exhilarating tale of darkness, love, and redemption.
There is something so captivating about Rosamund Hodge's writing. I think that's why I keep going back - she delivers this sense of familiarity in her characters, but her writing is so new, and fresh. I just cannot get enough. Her world's are so crazy and out there, but she makes them seem as normal as sliced bread, and I found myself just accepting it. The only thing that brought me out of it was when my brother would walk past while I was listening and just yell out, "BLOOD BOUND". It still hasn't gotten old.
And this narrator was the perfect choice. Her voice was soothing, but it kept my interest. She had this distinct sense of suspense in her voice that just added to the mysterious atmosphere. I find that an audiobook can make or break a story, and especially with a story that I wanted so badly to love like this one, i'm so grateful that it added to the experience.
Rachelle was probably one of my favourite characters that i've read this year. There was something about her that made me really admire her. She really hated who she was, and what had become of her, but it's as if she had grown up and just come to accept it. She knew that this was her life, and her fate, and she was going to do what she could to make life better for those in her life that she loved. And that was just so inspiring to me.
And this story! It's so rich and it's plot is so well developed that you don't even notice it building in the beginning, and then you suddenly realize that you're in the middle. And you don't notice until you're knee deep in the story and it's far too late to turn back. But yet, you're excited about what's to come. I loved the scenes in the forest, and the flashbacks to Tia and Zisa
So much of this story is caught up in the emotions and the writing, so I won't go on and on about it because i'm not that mean. I could write a full thesis about the suspense and atmosphere in Rosamund Hodge's novel, but I will just leave you with this - you have to read it to get it. There is this magical aspect that has to be experienced.
So go, my friends, and experience.