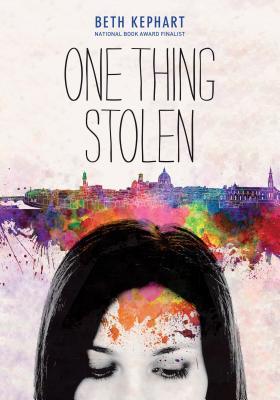 Book: One Thing Stolen
Publisher:
Chronicle Books
Publication Date:
April 14th, 2015
Where to Buy:
Amazon CA, Book Depository, Chapters Indigo
Thanks to Raincoast Books for providing me with an ARC in exchange for an honest review
Something is not right with Nadia Cara. She's become a thief. She has secrets she can't tell. And when she tries to speak, the words seem far away. In Florence, Italy, with her epicurean brother, professor father, and mother who helps at-risk teens, Nadia finds herself trapped by her own obsessions and following the trail of an elusive Italian boy whom no one but herself has seen. While her father researches a flood that nearly destroyed Florence in 1966, Nadia wonders if she herself can be rescued—or will she disappear?

Set against the backdrop of a glimmering city, One Thing Stolen is an exploration of obsession, art, and a rare neurological disorder. It is about language and beauty, imagining and knowing, and the deep salvation of love.
I was really unsure of this book, because while the synopsis sounded really intriguing, I just couldn't grasp onto the concept. Nadia, our narrator, is one of the most unreliable characters that I've ever read. And it was so hard to actually get the story when you spend most of the time reading trying to decipher riddles, only to see that the riddle wasn't actually important. She was all over the place, having one identity crisis after the other, and nothing is explained until about half way though. Nothing. Is. Explained.
If you want to drive a reader nuts, give them an info dump. If you want to make a reader bat shit crazy, give them next to nothing to go on. It was so difficult to read this story, because I had no idea what was going on, until about a hundred pages in. And as soon as you figure out what's going on, the perspective switches - and not for the better.
While the change of narrators was necessary, I hated it. I hated having to completely drop one character, who was really unreliable, and move to a character that was ready to lay everything out on the table. To be honest? It gave me whiplash. The book had another identity crisis, right in front of my eyes, and it was getting old.
I have no doubt that this is the book that caused my reading slump, and it might be because of that that i'm so bitter in hindsight. But I just didn't like this book. It didn't know what it was, and it just couldn't get it together.
1/5 stars. One of my least favourites of the year.