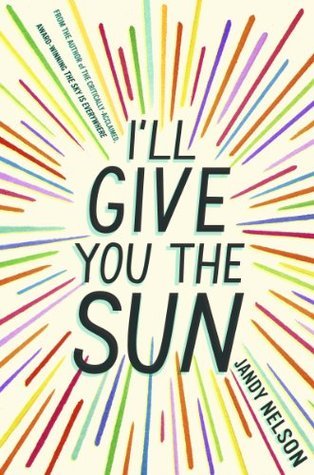 Book:
I'll Give You the Sun
Author: Jandy Nelson
Publisher: Dial
Pages: 371 Pages
Format: Hardcover
Source: Gifted to me
A brilliant, luminous story of first love, family, loss, and betrayal for fans of John Green, David Levithan, and Rainbow Rowell
Jude and her twin brother, Noah, are incredibly close. At thirteen, isolated Noah draws constantly and is falling in love with the charismatic boy next door, while daredevil Jude cliff-dives and wears red-red lipstick and does the talking for both of them. But three years later, Jude and Noah are barely speaking. Something has happened to wreck the twins in different and dramatic ways . . . until Jude meets a cocky, broken, beautiful boy, as well as someone else—an even more unpredictable new force in her life. The early years are Noah's story to tell. The later years are Jude's. What the twins don't realize is that they each have only half the story, and if they could just find their way back to one another, they'd have a chance to remake their world.
This radiant novel from the acclaimed, award-winning author of
The Sky Is Everywhere
will leave you breathless and teary and laughing—often all at once.
I'll Give You the Sun is one of those books that you know you're going to love, but you have no idea how much it will affect you until the very end. This book was a rollercoaster of emotions that had me laughing, crying, and clinging to these characters for dear life. While I wasn't a huge fan of Jandy Nelson's first book, The Sky is Everywhere (review), there was something different about this one, and the writing and the dynamic of the characters.
The characters shine the brightest in this book. Jude, Noah, Brian, Oscar, G, and everyone else were beautifully flawed in a way that no other character has ever been. Each character's voice was so distinct and it made for the conversations and interactions so incredible to read. Jude and Noah's conversations were so very different from Noah and Brian's, or Jude and Oscar's, but you can see each of them so perfectly.
And what would this story be without the AMAZING writing. Jandy Nelson really has a way with words. She utilizes words the way artists use paint - she creates these incredible scenes with such ease and its as if these characters are real, and running rampant in my mind. Every paragraph, every line, every
word
is in this book for a reason, and it all contributes to these incredible feelings of guilt and love and acceptance and hope that this book finishes on.
And Jandy doesn't just stop there! There are so many books that I love only because of the writing. But IGYTS's plot is PHENOMENAL. Threads are flying everywhere, and more are being created as the novel goes on, but everything comes together slowly, falling into place and making perfect sense, so that at the end, you have no idea how the story would have come together in any other way.
Jandy Nelson has created a masterpiece, and one that is not to be disregarded because of the hype. This book really is a work of art. Noah and Jude and Oscar and Brian and G are forever in my heart, and I have no intention of letting them escape, for they are too important to me.