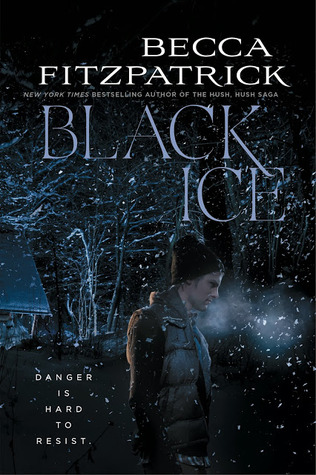 Book: Black Ice
Author: Becca Fitzpatrick
Publisher: Simon and Schuster
Books for Young Readers
Format: ARC
Pages: 392 Pages
Source: Sent to me in exchange for an honest review
Where to Buy: Amazon CA, Chapters Indigo, Book Depository
Thanks to Simon and Schuster for supplying me with an ARC!
Goodreads Summary
Sometimes danger is hard to see... until it's too late.

Britt Pfeiffer has trained to backpack the Teton Range, but she isn't prepared when her ex-boyfriend, who still haunts her every thought, wants to join her. Before Britt can explore her feelings for Calvin, an unexpected blizzard forces her to seek shelter in a remote cabin, accepting the hospitality of its two very handsome occupants—but these men are fugitives, and they take her hostage.

In exchange for her life, Britt agrees to guide the men off the mountain. As they set off, Britt knows she must stay alive long enough for Calvin to find her. The task is made even more complicated when Britt finds chilling evidence of a series of murders that have taken place there... and in uncovering this, she may become the killer's next target.

But nothing is as it seems in the mountains, and everyone is keeping secrets, including Mason, one of her kidnappers. His kindness is confusing Britt. Is he an enemy? Or an ally?

BLACK ICE is New York Times bestselling author Becca Fitzpatrick's riveting romantic thriller set against the treacherous backdrop of the mountains of Wyoming. Falling in love should never be this dangerous…
My Review
It's taken me a while to write this one. I finished this book a few weeks ago, but I couldn't collect my thoughts on it. There were parts of it that I love and thought were very entertaining, but there were some parts that just had me slamming my head against a desk, going 'Why? Why would they do that?' It was a weird rollercoaster that didn't really leave a great taste in my mouth.
Let's just get this started. Brit. Oh my god was she annoying. I couldn't get past her awful decision making, her one way mind, and her immaturity just irked me to no end. Even at the very beginning, and if you've read it you know what im talking about, the way she chose pride over safety really got to me. It was stupid and it made me want to stop reading right there. Throughout the book, I found myself not growing attached to her, but instead just hoping she wouldn't die to leave me on a cliff hanger.
This next thing I'm going to talk about is slightly spoiler, so skip this paragraph if you don't want to know anything! The other thing that really turned me off of this book was the relationship between Brit and Mason. it's hinted at in the synopsis, and it's YA so there had to be a romance, but It felt uncomfortable, forced, and I felt like it shouldn't have progressed as far as it did in the story. It was giving legitimacy to an unsafe relationship and in a way glamorized it. To me, it was saying - Oh no, i'm lost on a mountain with two killers on the loose, but if one of them wants to make out with me, I'll be fine with that! I was really uncomfortable with the relationship, and had it not happened, the book would have been a lot better.
The one redeeming factor of this book was the writing. Oh my God, Becca Fitzpatrick knows how to write suspense and intrigue well. The book, even while I wasn't attached to it, engaged me. Becca knew what to write to make sure that I would never know what came next, and she did a great job of it. I will definitely check out more of her work in the future, but I really think this one just wasn't my cup of tea.
I gave this one a 2/5. I really didn't enjoy this one, if you couldn't already tell, but I think there are some people who would be more into it. Definitely don't take my word as law, and look around. I know this is either a love ir or a hate it book, and I just so happened to have fallen into the latter.
Thanks for sticking around through this lengthy and ranty review!
- Indigo
@indigowayworth