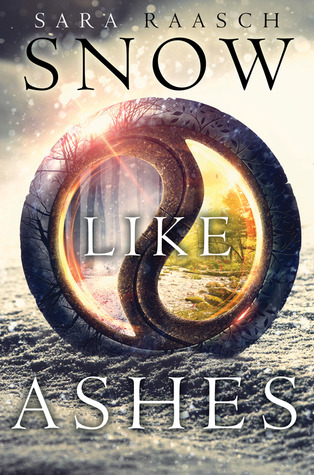 Book: Snow Like Ashes
Series: Snow Like Ashes #1
Author: Sara Raasch
Publisher: Balzer + Bray
Release Date: October 14th, 2014
Pages: 432 Pages
Format: ARC
Where to Buy: Chapters Indigo, Amazon CA, Book Depository
Thanks to the ladies at HCC Frenzy for providing an ARC in exchange for an honest review! Thanks!!
Goodreads Summary
A heartbroken girl. A fierce warrior. A hero in the making.
Sixteen years ago the Kingdom of Winter was conquered and its citizens enslaved, leaving them without magic or a monarch. Now, the Winterians' only hope for freedom is the eight survivors who managed to escape, and who have been waiting for the opportunity to steal back Winter's magic and rebuild the kingdom ever since.
Orphaned as an infant during Winter's defeat, Meira has lived her whole life as a refugee, raised by the Winterians' general, Sir. Training to be a warrior—and desperately in love with her best friend, and future king, Mather — she would do anything to help her kingdom rise to power again.
So when scouts discover the location of the ancient locket that can restore Winter's magic, Meira decides to go after it herself. Finally, she's scaling towers, fighting enemy soldiers, and serving her kingdom just as she's always dreamed she would. But the mission doesn't go as planned, and Meira soon finds herself thrust into a world of evil magic and dangerous politics – and ultimately comes to realize that her destiny is not, never has been, her own.
My Review
Snow Like Ashes was pitched to me as a 'fantasy for those who aren't that into fantasy'. Now, I wouldn't say i'm not into fantasy, because I love me a good one, but I find myself really inexperienced about fantasy in general. That's why it takes a good one to really grab on and hold me tight. That's exactly what Snow Like Ashes did.
Snow Like Ashes is the perfect mix between mysterious and suspenseful plotlines, with complex and interesting characters. The plot moved super quickly, but I never felt as though I was being rushed through. I think that was due to Meira. We learn in one of the first pages how quickly her mind works, and how quickly her mind has to work in order to live, so I got used to it really quickly, which was amazing. Any book that can grab my attention right off the bat is a good one.
And can we just talk about Meira for a moment? Or, a lot of moments? Because I want to be her best friend. She's seriously kickass and hardcore, but she still finds a way to keep her humanity throughout all the events that have happened in her life. I loved how, throught the book, she fought to be who she was, because it brought about such amazing character development. Looking back at the book, the Meira at the beginning, and the Meira at the end, were two completely different people, and her transition was so gradual, I can't pinpoint a moment when she changed.
The world of Snow Like Ashes contains 8 kingdoms; 4 Rhythm, and 4 Seasons. Meira and her clan are from Winter, where 16 years ago, was torn apart by Spring, and their evil leader Angora. These kingdoms were so well flushed out that I can't even begin to describe how well they were put together, and how well they meshed. The magic element was super fascinating, and I can see that there is still more to learn in the next books.
This was one of my favourite books of the year. The incredible plot, the realistic and lovely characters, and the fantastic world. Snow Like Ashes surpassed even my highest expectations, and I am so glad I got the chance to pick this up.
5/5 stars! This is out now, so go pick it up! You will not regret it!!
-Indigo
@indigowayworth