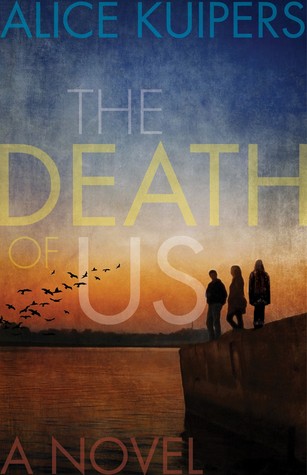 Book:
The Death of Us
Author: Alice Kuipers
Publisher: HarperTrophy
Format: ARC
Source: Advanced copy was provided by HCC Frenzy - Thanks Ladies!
Pages: 240 Pages
Where to Buy: Amazon CA, Chapters Indigo
Goodreads Summary

A recovered friendship, a dark secret, and a love triangle with a deadly angle…

Callie is shocked when her friend Ivy reappears after an unexplained three-year absence, but the girls pick up where they left off, and suddenly Callie's summer is full of parties, boys and fun. Beneath the surface, things aren't what they seem, however, and when a handsome boy with a dark past gets tangled up with Ivy, the girls' history threatens to destroy their future.
My Review
I was really excited to start this book. After reading the synopsis, and the first few pages, It seemed like it would be a little bit like We Were Liars and If I Stay, with the unreliable narrator, and the secrets being held. And, again, my expectations got a little bit out of control, and this book just couldn't live up to what I wanted it to be.
The Death of Us starts with Callie, a teenage girl whose best friend mysteriously left years earlier, and Ivy, the mysterious friend who has just returned to town. And with her she brings glamour, parties, boys, and a life that Callie is not accustomed to. The story is very much character driven, written in different perspectives, leading up to the big drop. The problem was, was that the characters were not that interesting. They weren't very captivating, and that's what got to me. They were fully fleshed out characters, with great back stories and motivation, but I just couldn't deal with them.
The one thing I thought was really well done was the multiple perspectives. I got a lot out of this, being able to see everything from different angles. This made sure that I wasn't able to determine who was right and who was wrong in any type of situation. I was up in the air for a lot of the story, and really enjoyed that. Each character had their own unique voice, and those voices were really well written.
But that's where the praise ends. Unfortunately, the writing style just didn't do it for me. Alice Kuipers could have used foreshadowing, and could have withheld more information that she did to create a more suspenseful story, but she just put her cards face up on the table as soon as she could. I wanted suspense! I wanted more overall from this story. I wanted a more complex read, but didn't get it from this one.
I own a couple more books by Alice Kuipers, and I will be giving her another chance, but I was not a fan of this one at all. I just... I was underwhelmed to say the least.
2/5 stars.
-Indigo
@indigowayworth