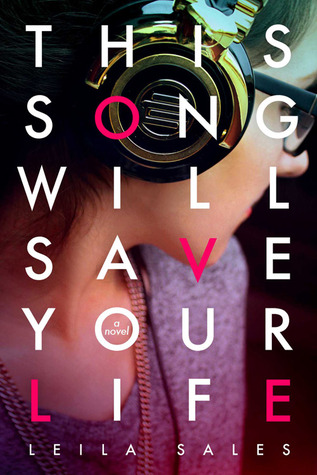 Book: This Song Will Save Your Life
Author: Leila Sales
Publisher: Farrar, Straus and Giroux (BYR)
Pages: 279 Pages
Format: Hardcover
Source: Purchased online at indigo.ca
Where to Buy: Chapters Indigo, Book Depository, Amazon CA
Goodreads Summary
Making friends has never been Elise Dembowski's strong suit. All throughout her life, she's been the butt of every joke and the outsider in every conversation. When a final attempt at popularity fails, Elise nearly gives up. Then she stumbles upon a warehouse party where she meets Vicky, a girl in a band who accepts her; Char, a cute, yet mysterious disc jockey; Pippa, a carefree spirit from England; and most importantly, a love for DJing.
Told in a refreshingly genuine and laugh-out-loud funny voice, THIS SONG WILL SAVE YOUR LIFE is an exuberant novel about identity, friendship, and the power of music to bring people together.
My Review
I was really excited to read this book. Besides from knowing that it was about a teenage DJ, and knowing that it was on almost everyone's top 13 of 2013 lists, I had no idea what it was going to be about.
Leila Sales created such a relatable and revolutionary character. Elise is the main character and what a character she is. At the beginning of the book, she bares her insecurities on her sleave and shows the reader how vulnerable and breakable she is. That was such a great way to get me to connect to her. While most characters wait till further towards the middle of the book to lay out all their cards, she was able to just come out and say it.
And the integration of music into the book was really well done. I was expecting it to be a bit cheesy, talking about music all the time, but never really hearing it, but it wasn't about hearing it. It was about feeling it through Elise, and about her interpretation of the music, not ours. The music was such a natural element that I can't believe I had doubts about it at first.
I wasn't expecting to love this. I knew that I would like it, but that was the extent of what I thought this book had for me. But with my connection and similarities to Elise and her want for freedom and self acceptance, I couldn't put this one down. I was obsessed from page one, with realism in every word, and such a great pacing that it reminded me of one of those songs that just never gets old.
I really wish I had read This Song Will Save Your Life earlier. I felt such a strong bond with Elise, and I think that everyone needs someone like Elise in their lives; someone who is vulnerable and scared, yet confident and unafraid to follow their heart. I think this book will stay with me for a long time.
5/5 stars.
-Indigo
@indigowayworth