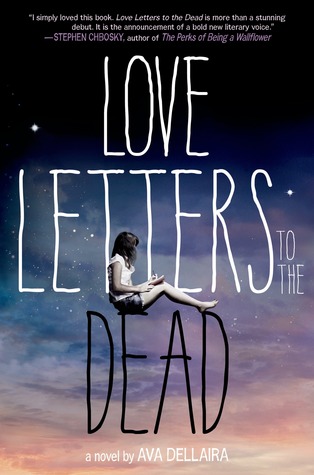 Book: Love Letters to the Dead
Author: Ava Dellaria
Publisher: Farrar, Straus and Giroux
Pages: 327 Page
Format: Hardcover
Source: Purchased at Chapters Indigo
Listen to:
The Ghosts in the House are Ours by theairtwit - 8Tracks Playlist
Where to Buy: Chapters Indigo, Amazon CA, Book Depository


Goodreads' Summary
It begins as an assignment for English class: Write a letter to a dead person. Laurel chooses Kurt Cobain because her sister, May, loved him. And he died young, just like May did. Soon, Laurel has a notebook full of letters to people like Janis Joplin, Amy Winehouse, Amelia Earhart, Heath Ledger, and more; though she never gives a single one of them to her teacher. She writes about starting high school, navigating new friendships, falling in love for the first time, learning to live with her splintering family. And, finally, about the abuse she suffered while May was supposed to be looking out for her. Only then, once Laurel has written down the truth about what happened to herself, can she truly begin to accept what happened to May. And only when Laurel has begun to see her sister as the person she was; lovely and amazing and deeply flawed; can she begin to discover her own path.
My Review
The only way to describe Love Letters to the Dead is to call it an experience. It was an emotional experience that had be laughing, crying, and just feeling all of the emotions. The story was conveyed with such beautiful writing, and Ava Dellaria conveyed Laurel's emotions so easily. Laurel wormed her way into my heart and there she will stay.
The writing was very reminisent of Perks of Being a Wallflower by Steven Chbosky, but it had it's own feel to it. I think that it was because of who the letters were written to. I think that specific people got specific kinds of letters; Judy Garland got letters that were about feeling used up, and Amelia Earhart got letters about ambition, and wanting to run away. The letters were beautifully written, and I loved that a lot of things came out of order in these letters.
Laurel, the main character, is an unreliable narrator, which I absolutely love. The way that events unravelled in the story made for such an interesting way of reading. It also feels like the narrator doesn't owe the reader anything. In a lot of books, I find that its the narrator's job to convey the story to us, but when the narrator is as well developed and as unreliable as Laurel, I feel like it's me that owe her my time. That probably doesn't make sense to anyone but me, but oh well.
There was an incredible balance that was held in this book. The balance between letters to people, and actually telling the story, between suspense and relief, caution and rebellion. I loved the character of Laurel for this reason. She was never only one thing. She got scared, and she second guessed herself a lot, but she still knew who she was and who she wanted to be. She just didn't know how to get there.
Love Letters to the Dead was a beautiful experience that I feel privilaged to have had. 5/5 stars. Obviously.
-Indigo
@Indigowayworth