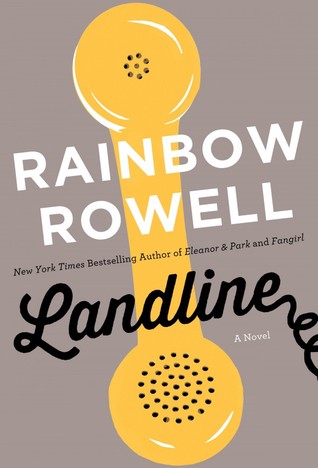 Book:

Landline


Author: Rainbow Rowell
Publisher: St. Martin's Press
Release Date: July 8th, 2014
Pages: 308 Pages
Format: Hardcover
Source: Sent to me for review from St. Martin's

Press


Where to Buy: Chapters Indigo, Amazon CA, The Book Depository




Goodreads' Summary
Georgie McCool knows her marriage is in trouble. That it's been in trouble for a long time. She still loves her husband, Neal, and Neal still loves her, deeply — but that almost seems besides the point now.
Maybe that was always besides the point.
Two days before they're supposed to visit Neal's family in Omaha for Christmas, Georgie tells Neal that she can't go. She's a TV writer, and something's come up on her show; she has to stay in Los Angeles. She knows that Neal will be upset with her — Neal is always a little upset with Georgie — but she doesn't expect to him to pack up the kids and go home without her.
When her husband and the kids leave for the airport, Georgie wonders if she's finally done it. If she's ruined everything.
That night, Georgie discovers a way to communicate with Neal in the past. It's not time travel, not exactly, but she feels like she's been given an opportunity to fix her marriage before it starts . . .
Is that what she's supposed to do?
Or would Georgie and Neal be better off if their marriage never happened?
My Review
Landline is classic Rainbow Rowell. If you enjoyed any of her other books, you will enjoy Landline immensely. The characters! The writing! The plot! The everything! It was incredible!!
Georgie was such an incredible character. She was so fun, and headstrong, but she was real. I felt like she could have been my neighbour, or an old family friend. She was palpable. She questioned all the wrong things, and she cried, and got angry, and over thought stupid things. She made for such a great narrator because of her relatability. It's so refreshing reading Rainbow Rowell's characters. They make for such amazing reads.
The next thing that really surprised me was the addition of magical realism to this novel. I was very excited to read about it and it was pulled off in a really good way! I love the way that Georgie reacted to it, making it very clear that she had no idea what was happening, why it was happening, and HOW it was happening. It was a very fresh take, and I really appreciated that we never really got an explanation as to what was going on.
I also really loved the relationship between Neal and Georgie. The way it was described, both in their current state and how they were when they first met, was so wonderful and made me root for them. It wasn't easy to see where they went wrong, and I loved how their relationship felt real.
There is this mood I get into after reading Rainbow's books. I can't describe it fully, but I just get super happy, and I just can't stop smiling. This was no exception to that. I was laughing, and crying, and I just felt so happy when I had finished it, but I wanted more. I just want more Rainbow in general.
Landline is a fun, feel good book that made me so, so happy. Everything that I love about Rainbow Rowell was bigger and better than ever. I really loved Landline, and I think that everyone should read this one.
5/5 stars.
Indigo
@Indigowayworth