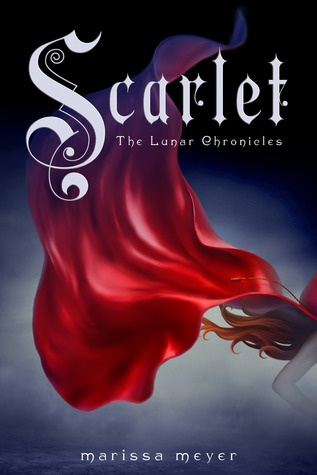 Book: Scarlet
Series: The Lunar Chronicles #2
Author: Marissa Meyer
Publisher: Feiwel and Friends
Pages: 452 Pages
Format: ARC
Source: Traded at OBS Meet Up 2013
Where to Buy: Amazon CA, Chapters Indigo, Book Depository
Goodreads Summary
Cinder, the cyborg mechanic, returns in the second thrilling installment of the bestselling Lunar Chronicles. She's trying to break out of prison--even though if she succeeds, she'll be the Commonwealth's most wanted fugitive. Halfway around the world, Scarlet Benoit's grandmother is missing. It turns out there are many things Scarlet doesn't know about her grandmother or the grave danger she has lived in her whole life. When Scarlet encounters Wolf, a street fighter who may have information as to her grandmother's whereabouts, she is loath to trust this stranger, but is inexplicably drawn to him, and he to her. As Scarlet and Wolf unravel one mystery, they encounter another when they meet Cinder. Now, all of them must stay one step ahead of the vicious Lunar Queen Levana, who will do anything for the handsome Prince Kai to become her husband, her king, her prisoner.
My Review:
When I read Cinder last year I really didn't like it. I found it to be a bit annoying, and the foreshadowing was extremely obvious in my opinion. I really did not have a good time reading it. But lately, for some reason (probably the hype around Cress) I really wanted to pick up Scarlet. And I'm really glad I did.
I liked the narration a lot more in this book than I did in Cinder. I think it was because of the variety of characters and points of view, but I was more engaged in the writing and in the lives of the characters. The world surrounding them was so cool to learn about and I loved the balance between all the different story aspects.
The story I also found had a great balance. There was a great mix of Scarlet's story, as well as a continuation of Cinder's story. Learning more and more about the world and about the mysterious back stories of the characters was so interesting and I really enjoyed that.
I really liked the romance, or the start of the romance, in Scarlet as well. I just wish there had been more Kai and Cinder relationship in this one! Understand completely why there wasn't and why there couldn't be, but a girl can dream, can't she?
Scarlet, packed with beautiful writing and amazing characters, blew me away. It exceeded expectations, and I'm so glad I gave this series another go! 4/5 stars!
-Indigo
@indigowayworth