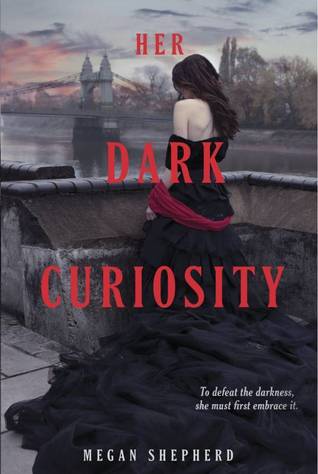 Book: Her Dark Curiosity
Series: The Madman's Daughter #2
Author: Megan Shepard
Publisher: Harper Teen
Pages: 420 Pages
Format: ARC
Source: HCC Frenzy - Thanks Ladies!
Where to Buy: Chapters Indigo, Amazon CA, Book Depository,
Goodreads Summary
To defeat the darkness, she must first embrace it.

Months have passed since Juliet Moreau returned to civilization after escaping her father's island—and the secrets she left behind. Now, back in London once more, she is rebuilding the life she once knew and trying to forget Dr. Moreau's horrific legacy—though someone, or something, hasn't forgotten her.

As people close to Juliet fall victim one by one to a murderer who leaves a macabre calling card of three clawlike slashes, Juliet fears one of her father's creations may have also escaped the island. She is determined to find the killer before Scotland Yard does, though it means awakening sides of herself she had thought long banished, and facing loves from her past she never expected to see again.

As Juliet strives to stop a killer while searching for a serum to cure her own worsening illness, she finds herself once more in the midst of a world of scandal and danger. Her heart torn in two, past bubbling to the surface, life threatened by an obsessive killer—Juliet will be lucky to escape alive.

With inspiration from Robert Louis Stevenson's The Strange Case of Dr. Jekyll and Mr. Hyde, this is a tantalizing mystery about the hidden natures of those we love and how far we'll go to save them from themselves.
My Review
Okay, so here's the deal. The Madman's Daughter was really good. I really liked it, and I knew I wanted to complete the series. The inspiration from classic novels was such an incredible twist, and so different than the straight retellings that fill the YA shelves. So Her Dark Curiosity... blew me away. It was fan-freaking-tastic.
Juliet is such an incredible character. She is strong, she's badass, she's caring, and she's human. We see many times through the novel where she makes mistakes, or does something wrong, and she has to recover from that. The fact that she has these moments makes her so much more relatable, and made me connect with her character. Also, her narration was kick ass. I really love the way she looked at the world, and the way she viewed the social constructs that had been set for women in her time and place.
I must say, even though I hate love triangles, this one worked. It might be because of the situation of one of the men in question (I can't go into specifics because of spoilers) or it might have been because I at one point was confused as to who she should choose. The writing of the triangle worked so well, and I was just stunned at how much I really enjoyed the love triangle. But this was an exception! I still don't like love triangles, or hexagons, or dodecahedrons!
And I cannot rave about the plot enough. This series is so cool, and it moves so quickly, but the forshadowing and the suspense is on point, and ahhhh! I really love this story. I love how Megan Shepard is able to blend these classic tales into one big amazing mishmash of awesome!
One of my favourite reads of the year. 5/5 stars. Have you read this series yet? Let me know if you have, because I want to flail with you over Twitter! If not, WHAT ARE YOU DOING?!
- Indigo
@Indigowayworth