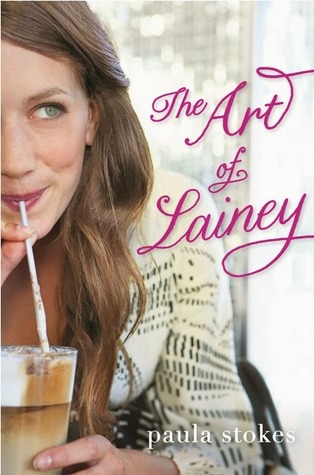 Book:
The Art of Lainey
Author: Paula Stoke
Publisher: HarperTeen
Pages: 384 Pages
Source: HarperCollins Canada - Thanks Ladies!!
Format: ARC
Release Date: May 20th 2014
Where to Buy: Amazon US, Amazon CA, Barnes and Noble, Chapters Indigo, The Book Depository,
Left Bank Books - Paula's favourite Indie! You can order a signed copy!
Goodreads Summary
Soccer star Lainey Mitchell is gearing up to spend an epic summer with her amazing boyfriend, Jason, when he suddenly breaks up with her—no reasons, no warning, and in public no less! Lainey is more than crushed, but with help from her friend Bianca, she resolves to do whatever it takes to get Jason back.
And that's when the girls stumble across a copy of The Art of War. With just one glance, they're sure they can use the book to lure Jason back into Lainey's arms. So Lainey channels her inner warlord, recruiting spies to gather intel and persuading her coworker Micah to pose as her new boyfriend to make Jason jealous. After a few "dates", it looks like her plan is going to work! But now her relationship with Micah is starting to feel like more than just a game.
What's a girl to do when what she wants is totally different from what she needs? How do you figure out the person you're meant to be with, if you're still figuring out the person you're meant to be?
My Review
I realize now that I have been on a contemporary kick, but it's been really dark contemporary, and I wanted a mood boost and I found exactly what I wanted with The Art of Lainey.
First off, can you say character development? I mean, at the very beginning, I wasn't really a fan of Lainey but when her boyfriend broke up with her in the first chapter of the novel (not a spoiler!), she started to grow. And looking back from the end of the novel, she grew so much, and it was so incredibly well paced that it was just a natural progression.
I don't know how Paula Stokes was able to write such an incredible and natural relationship between Lainey and Micah, but I loved it and I want more. The realistic relationship they had made me smile, and laugh, and just root for them. They are such solid and strong characters alone, and they worked so well together. At the end of the day, I just wanted Lainey and Micah to be happy.
Paula, along with creating such incredible characters, wrote such an interesting plot. Seeing a romance as war, and your significant other as your enemy was a really interesting way to look at a relationship. I mean, wouldn't you want your partner to be on your side, instead of against you? After reading this, I had a big conversation about what a healthy relationship is, and what it means to be apart of a relationship.
I had a lot of fun reading The Art of Lainey and I got very attached to the characters. This book is so sweet that you'll get toothaches, and my god it's so smart. I loved reading this book.
4.5/5 Stars. My one problem was that it wasn't long enough!
About Paula Stokes
Paula Stokes is half writer, half RN, and totally thrilled to be part of the world of YA literature. She grew up in St. Louis, Missouri where she graduated from Washington University and the Goldfarb School of Nursing. When she's not writing, she's kayaking, hiking, reading, or seeking out new adventures in faraway lands. Paula loves interacting with readers! Find her online at

www.authorpaulastokes.com

or on twitter as @pstokesbooks.
Follow Paula!
Giveaway
This giveaway is open internationally!! <3
a Rafflecopter giveaway
Follow the Tour!
May 12: Jessica @ Read My Breath Away – Kick-Off
May 13: Giselle @ Book Nerd – Review
May 14: Emilie @ Emilie's Book World – Character Interview
May 15: Indigo @ Adventures in YA Fiction – Review
May 16: Kristie @ Lost in Ever After – Deleted Scene
May 19: Ciara @ Lost at Midnight – Review
May 20: Allison Grace @ Sleepless Reads - Interview
May 21: Siobhan @ Conversations of a Reading Addict – Review
May 22: Amanda @ Stuck in YA Books – Guest Post
May 23: Christa @ More Than Just Magic – Review
May 26: Lynne @ Words of Mystery – Review
May 27: Caitlin @ The YA Bookworm Blogger – Review
May 28: Tanya @ Book Loving Hippo – Guest Post
May 29: Alyssa @ Swept Away By Books – Review
May 30: Kathy @ A Glass of Wine – Wrap-Up
-Indigo
@indigowayworth